2022-04-01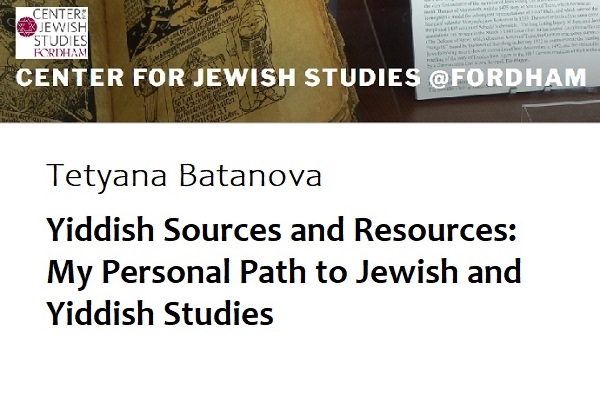 Fordham's Center of Jewish Studies organizes the lecture series is a part of a broader effort on behalf of scholars affected by the war.
In the talk "Yiddish Sources and Resources: My Personal Path to Jewish and Yiddish Studies" by Tetyana Batanova, a research fellow and acting head of the Judaica Department of Institute of Manuscript of V. Vernadsky National Library of Ukraine, will give an overview of unique documentary and literary Yiddish sources written or published in Ukraine or about Ukraine in the 20th century with special focus on Yiddish sources of 1917–1919. She will speak about Yiddish studies in Ukraine in 1991–2021 (study centers, publications, translations from Yiddish into Ukrainian).
The event will be held on April 8 at 9AM (EDT)/3PM (Germany)/4PM (Ukraine).
You can find a registration form here.