2021-08-20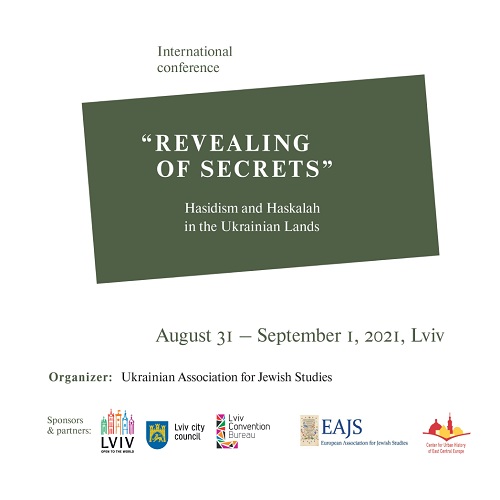 The international conference "'Revealing of Secrets': Hasidism and Haskalah in the Ukrainian Lands", organized by the Ukrainian Association for Jewish Studies, will take place in hybrid format at the Center for Urban History (Lviv, 6 Bohomoltsia St.) on August 31 – September 1, 2021. Scholars from eight countries (Israel, Ukraine, Poland, Germany, Sweden, United Kingdom, USA, and Russia) will participate in the two-day event.
The conference is dedicated to the development of Eastern European Jewry at the border of traditional and modern worlds and to the special place of Ukrainian Jewry in the dialogue between them.
The modernization of the Jewish communities of Eastern Europe is associated with the interaction of two powerful movements – Hasidism and the Jewish Enlightenment (Haskalah). They formed the intellectual landscape of Ukrainian Jewry from the second half of the 18th century until the end of the 19th century.
In the second half of the eighteenth century, Podilia, Halychyna (Galicia), and Volyn became the homeland and center of development of the Hasidic movement. The foundations of early Haskalah were also laid here, at about the same time. The names of Menachem Mendel Lefin of Sataniv, Israel of Zamosc, Solomon Dubno, Pinchas Ha-Levi Horowitz, and others were closely linked to Ukraine. Later, in the first half of the nineteenth century, Western Ukraine became the meeting place for Hasidism and a new stage of Jewish Enlightenment – the so-called "Galician Haskalah."
Ukraine played a special role in the history of both Hasidism and Haskalah. However, study of these movements in modern Ukraine – the territory where the interaction between them took place – is still at the stage of formation. We hope that the discussion initiated at the conference will encourage further development of relevant research.
Keynote speakers: Prof. Marcin Wodziński (University of Wrocław, Poland) and Prof. Shmuel Feiner (Bar-Ilan University, Israel).
The conference will also include the panel in memory of eminent researcher of Hasidism, Jewish mysticism, and gender history Ada Rapoport-Albert (1945–2020) and the seminar for young scholars (MA and PhD-students).
In addition, the ceremony of the 2021 Marten Feller and Zhanna Kovba UAJS Book Award in Jewish Studies will be held within the conference.
The working language is English (except the book ceremony which will be conducted in Ukrainian). We kindly request media and those who wish to join the event to register here.
The program can be found here.
The event is sponsored by the European Association for Jewish Studies and supported by Lviv Convention Bureau and co-financed by Programme "Support package for development of conference industry in Lviv".
For any questions, please contact the Organizing Committee at conference@uajs.org.ua.
Зображення